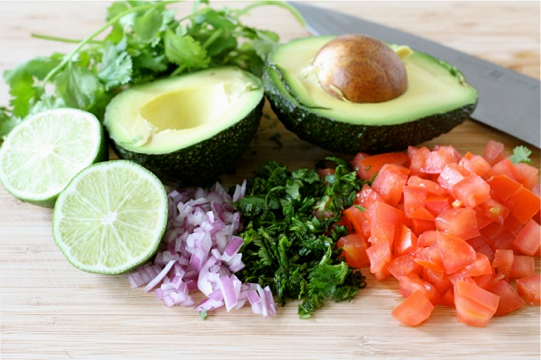 I have a preference for Hispanic cuisine, I love the spices and flavors that come with authentic Mexican and Latin American foods. But sometimes with my preference comes unwanted calories. I am on this journey to let my eye become my canvas for choosing foods that will benefit my temple and give glory to God.  I stumbled upon a recipe for a beef taco salad, because I don't eat a lot of red meat I substituted the beef with turkey and added some ingredients of my own. I hope you enjoy this recipe as much as I and my father did, he loved it so much that he has requested that I prepare it for him and my mother tomorrow night.
Remember everyone has a day one and small steps lead to big results!!!
For meat
¾ pound lean ground beef (90 percent lean or higher) I substituted with ground turkey.
2 cloves garlic, minced
1 (15-5 ounce) can black beans, drained and rinsed
1 tablespoon chili powder
¼ teaspoon cayenne pepper, plus more to taste (I omitted this due to children)
1/3 cup of water
For the dressing
4 medium tomatoes, diced
2 tablespoons olive oil
2 tablespoons fresh lime juice
½ teaspoon salt (kosher)
¼ teaspoon freshly ground black pepper
For the salad
2 hearts romaine lettuce, chopped
½ cup grated cheddar
2 ounces baked corn tortilla chips (about 32 chips)
Directions:
To prepare the meat, heat a large skillet over a medium-high heat. Add the beef or turkey and cook until no longer pink, stirring occasionally and breaking the meat up with the spoon. Add the garlic and beans and cook for 2 minutes more. Add the chili powder, cayenne and water and stir until well combined and some but not all of the liquid has been absorbed. Remove from the heat and allow the mixture to cool slightly.  Meat mixture may be made up to 3 days ahead and stored in an airtight container in the refrigerator.
To make the tomato dressing, in a medium bowl, combine tomatoes (with their juices), oil, lime juice, salt and pepper. Dressing may be prepared up to 2 days ahead and stored in an airtight container in the refrigerator.
Place 2 cups of lettuce on each plate or in a lunch container. Top each serving with 1 cup of the beef mixture then sprinkle with 2 tablespoons of cheese. If making to-go, pack ¾ cup of the tomato mixture in a separate sealable container and put about 8 chips in a separate bag. Right before eating, pour a portion of the tomato mixture with the liquid on top of each salad, and crush tortilla chips on top.
This recipe is courtesy of Ellie Krieger: A dietitian and chef for the food network
I also added some cumin seasoning, and since I like sour cream, I used Greek yogurt instead. I made this recipe my own with black olives and a little avocado. It was delicious.
The salad by itself with no add-ons is an excellent source of protein, fiber, Vitamin A, Niacin, Vitamin B6, Vitamin B12, Vitamin C, Calcium, Iron, Phosphorus, Potassium, Selenium, and Zinc.