Baked Broccoli-Cheddar Quinoa Bites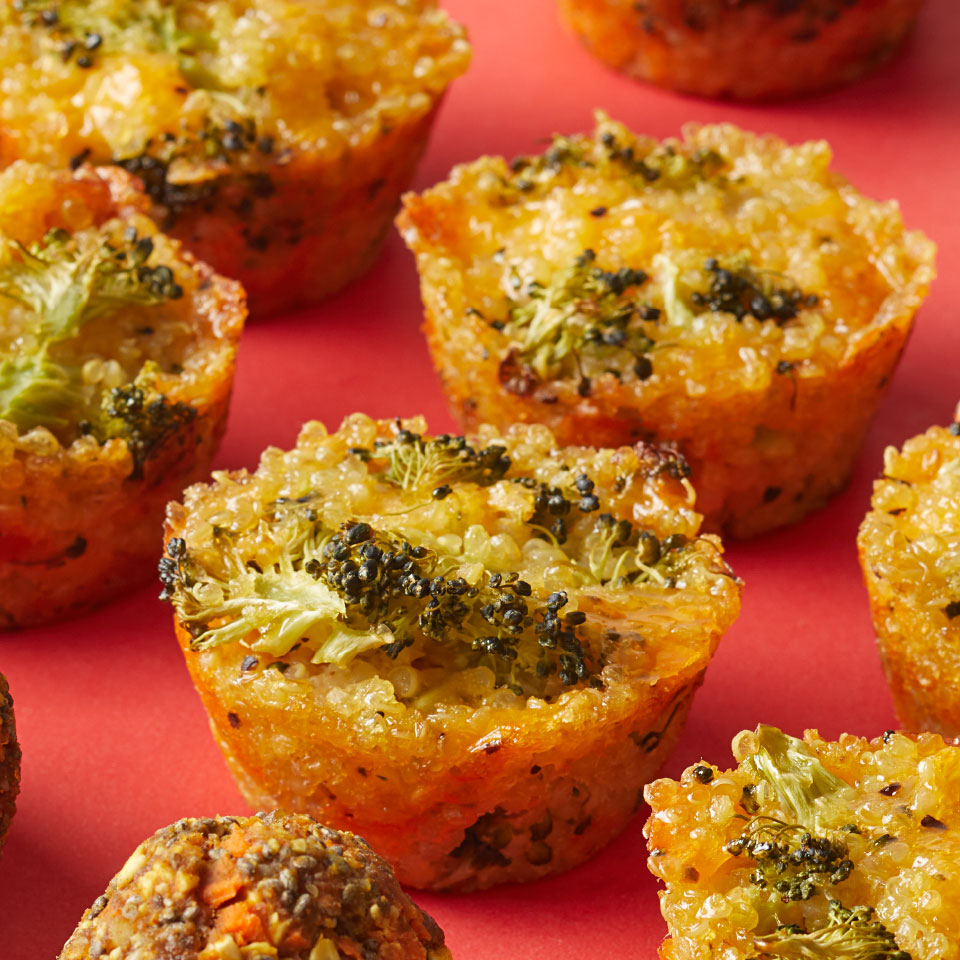 These savory muffin-like quinoa bites are low in carbs and a good source of protein–plus we love their cheesy flavor. Source: Diabetic Living Magazine, Summer 2019
Ingredients
½ cup quinoa
⅛ teaspoon salt plus 1/4 teaspoon, divided
¾ cup finely chopped broccoli
¾ cup shredded Cheddar cheese 
½ teaspoon baking powder
½ teaspoon garlic powder
¼ teaspoon onion powder
¼ teaspoon ground pepper
1 large egg, lightly beaten
Cooking spray
Directions
Step 1 Preheat oven to 350 degrees F. Line 16 cups of a 24-cup mini muffin pan with paper liners (see Tip) or coat with cooking spray.
Step 2 Cook quinoa with 1/8 tsp. salt according to package directions. Remove from heat and let stand, covered, for 5 minutes. Transfer to a large bowl and let cool for at least 10 minutes.
Step 3 Add broccoli, Cheddar, baking powder, garlic powder, onion powder, pepper, and the remaining 1/4 tsp. salt to the quinoa. Stir in egg.
Step 4 Divide the quinoa mixture among the prepared muffin cups, pressing firmly with lightly moistened fingers. Mist the tops with cooking spray.
Step 5 Bake until golden, 22 to 25 minutes. Let cool in the pan on a wire rack for 20 minutes, then remove to the rack to cool completely.
Tips:
If you use paper liners, refrigerate the baked bites for at least 2 hours before removing from the liners, to prevent sticking.
To make ahead: Refrigerate for up to 3 days.
Equipment: Mini-muffin pan (24-cup)